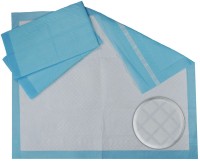 DiaperFetch is pleased to offer Provider's Choice Underpads with Tape for the sale price of $46.00 per case!! The Providers Choice Daytime Plus™ Underpads are made of the highest quality materials and are the most absorbent on the market today. The cases come in 10 packs of 10 and are 30″x36″. Underpads also known as Chux are rectangular absorbent pads designed to protect your bed and chairs. They can also be used for hygienic diapers changes.
Features:
A unique under pad built with modern technology
Tight diamond embossed pockets of absorbent polymer with cellulose fiber makes this underpad one of the thinnest but most absorbent underpads on the market
Tight diamond embossing aids to wick fluids away from the point of entry and spread it over a larger area, creating a drier surface and promoting healthy skin
Extra strong non-slip blue colored backsheet offers maximum leak protection
2 Adhesive peel strips keep pads firmly in place
Latex free!
If you have any problems accessing the cart, go directly to this link below:
http://www.diaperfetch.com/shop/underpadschux/#underpadstape