Adult Swim Diapers

Adults with special needs can have a safe and worry-free experience in the water thanks to Reusable Adult Swim Diapers from SoSecure. Reusable Adult Swim Diapers make participating in water sports possible and enjoyable for adults with special needs without worrying about embarrassing leakage and bulk. (read more)
Reusable Adult Swim Diapers are perfect for anyone who requires a diaper while swimming. Plus, since they are constructed to be worn discreetly under a bathing suit while helping prevent harmful bacteria from entering the water. A Reusable Adult Swim Diaper is perfect solution for individuals with bowel incontinence. Unlike other Adult Swim Diapers that are bulky, our Reusable Adult Swim Diapers do not absorb liquids. All SoSecure Reusable Adult Swim Diapers are Latex-free.
Reusable Adult Swim Diapers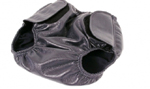 Features include:
SoSecure Reusable Swim Brief is designed for adult and teens dealing with bowel incontinence (it will also contain some urine leakage.)
Uni-Sex
Unique, adjustable velcro front closure that allows for a snug, secure fit.
High tech stretch polyurethane fabric with soft fleece lining.
Elastic waist & legs for added security.
Product is designed to worn next to skin under a swimsuit.
Intended for swimming, but it can be used as a diaper cover for day and night use.
Machine washable-Hang to dry.
Click So Secure for Video to learn more.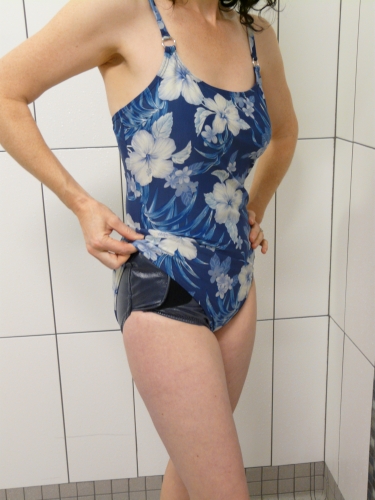 Available in sizes:
Please order by waist or hip, whichever is larger. Available in Navy only. For example, if a woman has a 32″ waist and 38″ hip, she should order the Extra Large size. These garments are stretchy and adjustable and should fit snugly.
| | |
| --- | --- |
| Adult Small #AS1424 | Waist/Hip 25"-28" |
| Adult Medium #AS1431 | Waist/Hip 29-32" |
| Adult Large #AS1448 | Waist/Hip 33"-36" |
| Adult XL #AS1455 | Waist/Hip 37"-40" |
| Adult XXL #BAS1462 | Waist/Hip 41"-44" |
| Adult XXXL #BAS1479 | Waist/Hip 45"-48" |
FREE SHIPPING!!!

Note: This product is not returnable due to health regulations unless the size shipped varies from the order placed.
For smaller sizes in stock: Shop Now – Buy Now Online