Underpads, Chux & Waterproof Sheeting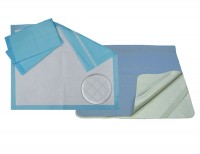 Underpads also known as Chux are rectangular absorbent pads designed to protect your bed and chairs and come in a variety of sizes and styles. Waterproof Sheeting is a latex free waterproof sheet that wraps around the entire mattress and secures firmly with built in elastic straps, keeping it dry.
Breeyo Underpads With Tape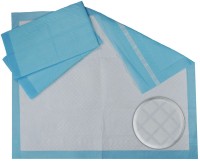 Breeyo Underpads are made of the highest quality materials and are the most absorbent on the market today. These pads will not leak or tear when you pick them up. Dryness enhanced top sheet combined with our poly filled diamond embossing improves overall wicking of fluids throughout the pad for improved absorbency. Wicking fluid away from the point of entry moves fluid over a larger area, creating a drier surface promoting healthy skin. Polypropylene backing offers maximum back-up protection for beds and chairs, while our aggressive adhesive strips on the bottom of the pads will keep them in place.
Features:
A unique under pad built with modern technology
Tight diamond embossed pockets of absorbent polymer with cellulose fiber makes this underpad one of the thinnest but most absorbent underpads on the market
Tight diamond embossing aids to wick fluids away from the point of entry and spread it over a larger area, creating a drier surface and promoting healthy skin
Extra strong non-slip blue colored backsheet offers maximum leak protection
2 Adhesive peel strips keep pads firmly in place
Latex free!
Available size:
30" x 36"
10/10's or 100 per case, Item#P3036
Ideal Brands IU-3036 Underpads with Tape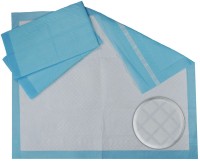 Ideal Underpads are designed with waterproof backing and extra fluff. Ideal Underpads also contain Super Absorbent material for extra liquid retention at a more rapid pace. They have a soft, cloth-like topsheet that covers the entire surface to promote healthy skin. Super absorbent polymer locks fluids away from skin and helps prevent odor. It also features tape to eliminate pad movement and bunching. Leak-proof backsheet protects surfaces from fluid.
Available size:
30" x 36"
100 per case, Item#PIU3036
Kendall Tendersorb Underpads-Chair Size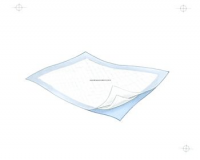 For protection against light to moderate incontinence, the Kendall Tendersorb underpad features a soft top sheet for user comfort and a waterproof polypropylene back sheet. These chux underpads are ideal for protection from bed wetting and excellent leakage protection for a chair or wheel chair.
Available size:
17″x24″
Sold only by the case of 300, Item#P7105
CairPad – Breathable Underpads – Super Absorbency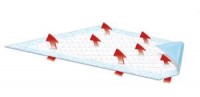 CairPad disposable underpads for bed or chair protection are designed to cover mattresses in order to absorb leakages, reduce odors and maintain dryness. They consist of a polyethylene layer combined with sealed edges to ensure leakage protection. The highly absorbent material is evenly distributed throughout the core.
CairPads Feature:
Designed specifically for airflow therapy beds
New design allows for improved air flow when pad is either wet or dry
Cloth-like fabric backsheet reduces heat retention by allowing air to flow, keeping skin cool, dry and comfortable
Soft, non-woven facing extended to the edge of the pad to promote healthier skin
Cairpad® (CFCP-2336) contain Hygard® super-absorbent polymer for increased absorbency
Available Size:
23″ x 36″
6/10's or 60 per case, Item#P23363
Secure Personal Care Reusable Waterproof Sheeting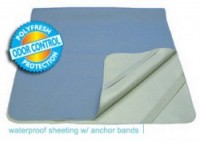 Our Waterproof Sheeting is the perfect reusable underpad for any home or institutional care use. Made of heavy-absorbent needle-punched soaker material and featuring antimicrobial construction, our reusable Waterproof Sheeting will hold up wash after wash to provide you with months of use.
Designed for multiple uses
Maximum surface protection that lasts – can be used over and over
Constructed of washable fibers and woven fabric, the 9oz soaker is made of a blend of rayon and polyester fibers needle-punched together to form a strong wickable material which moves fluid thoughout the soaker material to help keep the surface of the pad dry
Reusable fibers are coated with antimicrobial material to help reduce bacteria and kill the odor associated with urine
Soft comfortable non-woven cover
Designed to cover a hospital size twin bed (36″ x 72″) and is secured by elastic anchor bands on the bottom of the pad
Latex Free
Available Size:
36″ x 72″, Item#P1837