Undergarments & Reusable Underwear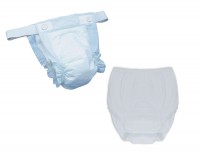 Undergarments and Reusable Underwear are solutions for mild or moderate incontinence. These products allow the user to have some wetness protection on a daily basis without the necessity of wearing diapers.
At Ease® Belted Undergarment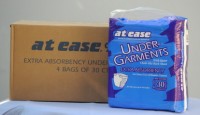 Perfect for both home and institutional use, Belted Undergarments are one size fits all (for waists up to 54″) – allowing for all hip- and body-sizes to fit snugly with wide elastic buttoned straps and body-hugging undergarment. Moderate to heavy liquid absorption ensures comfort all day long. Belted Undergarments are the most cost effective product for moderate protection.
Ideally designed for the mobile user, slim design and clothlike cover for discretion and quietness. Super absorbent polymer neutralizes ammonia, reducing odor. Blue acquisition layer for extra dryness.
Elastic leg gathers. One size fits to 54″. 30 per bag and 120/cs, Item#P94530
Dignity Reusable Underwear Unisex

Reusable Underwear is a fitted cotton brief with a pouch sewn inside the pant. It is designed to hold an absorbent pad or liner securely in place. Fitted briefs made of 50% cotton/polyester with wide elastic waistband. Streamlined and discreet. Stretch-Loc pouch holds liner securely in place. See below for the recommended pad for this "pad and pant system".
Unisex Small Item #P16902
Unisex Medium Item#P16903
Unisex Large Item #P16904
Unisex XL Item #P16905
Dignity® Plus Super Absorbent Liners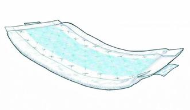 Dignity® Plus Super Absorbent Liners (CS/10) 4″WX12″L
Use with all Dignity® Plus products. Low-profile, super-absorbent liner with adhesive release tape secures in any underwear. "Gels" when wet to lock in wetness. Moisture-proof barrier and soft, non-woven facing provide comfort and protection. Recommended for the management of most bladder loss and light bowel leakage problems.
7 packs of 25=175 count, P30071