TRANQUILITY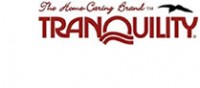 Tranquility brand products help restore the incontinent's lifestyle, confidence and peace of mind, all while protecting fragile skin. Tranquility Incontinence Products last longer between changes, saving daily expenses and waste. Our high-performing, full-line of incontinence products provides the very best solution to all types of incontinence management issues.
SlimLine® Disposable Briefs

These High performance briefs deliver superior absorbency. The "Peach Mat Construction" guarantees skin dryness, odor control, bacterial control and pH neutralization. These briefs are soft and comfortable. The refastenable tape tabs enable multiple opening and closing of the brief.
Available in sizes:
Small 24″-32″ waist or hip (10 bags of 10) Item#P2120
Medium 32″-44″ waist or hip (8 bags of 12) Item#P2122
Large 45″-58″ waist or hip (8 bags of 12) Item#P2132
Tranquility XL + Bariatric Disposable Brief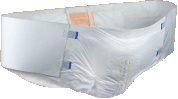 First to provide this new measure of care! These unique briefs enhance self-esteem while providing for greater mobility. Breathable and stretchy soft side panels comfortably fit. This brief is designed to fit a 64″ to 90″ waist. Peach Mat Construction absorbent core protects sensitive skin and controls odor. The Kufguards leg cuffs provide leakage/bowel containment. The XL + Bariatric Brief contains dual wetness indicators. The refastenable tape tabs allow for multiple openings of the brief. Latex-free.
Available in size:
XL + Brief 64″ to 90″ waist, Item#P2190