Diaper Doublers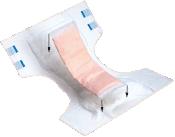 Diaper doublers are inserts that can be added to a diaper to provide extra protection for your child. They improve the soaking capacity of any diaper as they come in many sizes. When children start to sleep overnight, they might need a little extra protection so they don't wake up for a diaper change. Diaper doublers are perfect solution for this situation or any other where your child might need extra absorbency.
Kendall® Presence™ Bladder Control Pads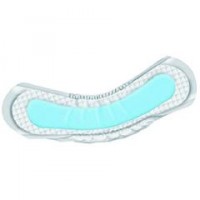 Kendall® Presence™ Bladder Control Pads. Effective yet discreet protection for light incontinence control, with the look of a feminine hygiene product and the increased capacity of an incontinence product. Features a blue aperture acquisition layer and super-absorbent polymer for maximum fluid retention while reducing odor and keeping wetness away from skin. Features an air laid insert that acts as the pad's backbone, preventing undesirable deformation during use. Cloth-like facing and latex-free elastic leg gathers for a better fit. Individually sealed with a durable wrapper that doubles as a disposal device.
6 packs of 20=120 count, P1110B
Dignity® Plus Super Absorbent Liners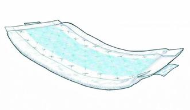 Dignity® Plus Super Absorbent Liners (CS/10) 4″WX12″L
Use with all Dignity® Plus products. Low-profile, super-absorbent liner with adhesive release tape secures in any underwear. "Gels" when wet to lock in wetness. Moisture-proof barrier and soft, non-woven facing provide comfort and protection. Recommended for the management of most bladder loss and light bowel leakage problems.
7 packs of 25=175 count, P30071
Prevail Bladder Control Pads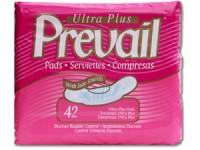 Prevail® Bladder Control Pads are body-shaped pad inserts with Cloth-like Outer Fabric designed for stress and urge incontinence. Featuring the Target Acquisition Zone and the Blue Stay-Dry Strip, liquid is quickly wicked and locked away from the skin for ultimate skin dryness, leakage protection and odor control. With a full-length adhesive strip for secure anchoring, Prevail® Bladder Control Pads offers the ultimate in discretion and protection.
Prevail Bladder Control Pads Maximum Long 13″
4 packs of 42=168 count, Item#P915