Bedwetting Alarm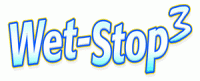 Bedwetting alarms emit a noise when moisture is detected. They will wake your child up, allowing him or her to go to the bathroom. Studies indicate a 60-80% long-term cure rate when bedwetting alarms are used correctly.
Wet-Stop®3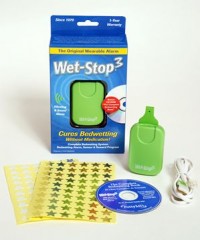 The Wet-Stop 3 has proven to be a safe and effective way to help stop bedwetting. The alarm attaches to the shoulder area of pajamas or tee shirt and contains the battery operated buzzer. The moisture sensor attaches to the child's ordinary underwear or can be inserted into a disposable pant. Wet-Stop3 is convenient as well as effective. The Wet-Stop3 reacts immediately to the first few drops of moisture, teaching the child to stop the flow of urine before the bed becomes wet. During this learning process, dry underpants will be needed but the family will be spared the bother of remaking the entire bed. In less than six months, many children will no longer require use of the Wet-Stop3.
Kit contains:
Alarm & Sensor
Instructions for use
Calendar, Stickers
The Complete Bedwetting Book on CD in English and Spanish
Features:
Requires 2 AAA batteries
New magnetic attachment eliminates sewing
Instant clip-on detachable urine sensor
One-year warranty against manufacturer's defects
5 variable alarm sounds
Alarms and/or vibrates
Flashing LED Button

Wet-Stop 3 Guarantee! If the alarm or sensor fails within a year of purchase due to a manufacturer's defect, it may be returned to PottyMD for a replacement.
FREE SHIPPING!!!
Item#PWS3B Blue
Item#PWS3G Green
Item#PWS3P Pink