Bariatric Briefs Diapers & Pullups

Bariatric diapers are adult-sized diapers that are used for people after bariatric surgery or for those who are morbidly obese and have incontinence of the bladder or bowel. We carry both brief styles (with tabs) and protective underwear (pull on and off) varieties. (read more)
Bariatric Briefs are designed to fit larger individuals that do not fit into traditional XL sizing. Bariatric Briefs come in two different varieties: with tabs such as the Tranquility XL+ Bariatric Brief, TENA® Bariatric 3XL Brief, Dignity XXL Brief, or in a pull-up, protective underwear construction which pulls up and down like Prevail Protective Underwear XXL.
Bariatric Briefs are commonly used by a larger, taller, or heavier individual that suffers from bowel or bladder incontinence. These products typically fit a range 63"-95" waist. For the Bariatric patient, one of the most important issues is skin integrity as the majority of the clients are bed bound. These products typically have features that provide for odor control and ventilation to protect against breakdown, skin irritation, and bed sores. Another issue for consideration in choosing the right Bariatric Brief is fit. The product you choose must fit the patient properly, not gapping or sagging, so as to prevent unnecessary leaks. Tena Bariatric 3XL Briefs have secure tab fasteners that will attach anywhere on the brief. Similarly, the Tranquility XL+ offers breathable side panels that stretch for a comfortable fit.
Prevail Protective Underwear XXL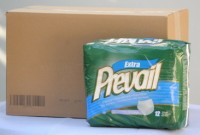 Specially Designed For The Bariatric Individual
Size – 2X-Large 68″ to 80″ Waist
Extra Absorbency Protective Underwear.
Prevail® Protective Underwear is LATEX FREE and fits a wide range of wearers with a Silky-Soft outer fabric providing a softer and even more comfortable fit like regular underwear.
Pull them up and wear like normal underwear!
Advanced core design and fast absorbing Blue Stay-Dry Strip significantly improves skin dryness and reduces the potential for leakage, providing improved odor control, healthier skin and additional wearer comfort.
Ventilated waist panels allow air to freely migrate improving skin health and comfort by reducing heat build up.
Easy pull-on and pull-off design.
Comfortable waist panel gives a close, discreet fit.
Designed for both urinary and bowel incontinence.
Color-coded band designates back of underwear and size.
Stretchable waistband
*The bariatric adult diaper have Easy-Lock Fastener reattaching closure tabs securely grip and hold the outer fabric without being sticky. (ELF will not stick to gloves or skin but will attach anywhere on the outer fabric for easier application).
Available size:
Size – 2X-Large 68″ to 80″ Waist
Packaging: 12ea/4pk/48cs, Item#P517
Dignity XXL Brief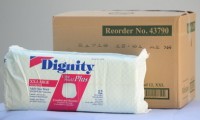 Whitestone's maximum-absorbency, full-mat premium diaper offers optimum protection, improved skin health, and comfort. UltraShield Plus leads the industry in absorbency, skin dryness, and acquisition speed. The UltraShield Plus 43790 was the industry's first XX-Large brief to comfortably fit up to a 68-inch waist.
Available size:
XXLarge (63″-68″) – 43790 – 48 per case, Item#P43790
TENA® Bariatric XXXL Brief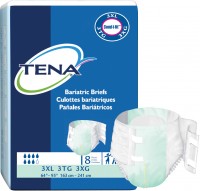 For moderate to heavy bladder and/or bowel control protection
Unique Stretch Sides provide:
Full breathability that promotes skin health and comfort
Customizable fit that reduces product gapping and sagging for comfort, security and effective leakage control
Increased range of fit to accommodate the sizing needs of larger individuals and varying body types/shapes
Snug "stay in place" fit
TENA® Blue Target Absorption Zone with the InstaDri Skin-Caring System™ provides extra protection where needed the most to quickly lock in liquids and odor, promoting drier, healthier skin with dignity and discretion.
Secure hook tab fasteners provide secure fastening anywhere on the brief and unlimited refastenability.
Soft nonwoven backsheet is gentle against the skin and less noisy, providing improved comfort and greater dignity.
Moisture-proof lining protects clothing and linen against wetness and is color coded for correct product selection.
Leg elastics provide an individualized fit for enhanced leakage protection and more comfort.
The wetness indicator alerts that the brief has been soiled and needs to be checked.
To protect against latex sensitivities, all TENA® products and packaging are latex-free.
Available sizes:
XXXL fits waist/hips 64" – 95" (163 – 241cm), Item#P61385

Tranquility XL + Bariatric Disposable Brief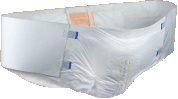 First to provide this new measure of care! These unique briefs enhance self-esteem while providing for greater mobility. Breathable and stretchy soft side panels comfortably fit. This brief is designed to fit a 64″ to 90″ waist. Peach Mat Construction absorbent core protects sensitive skin and controls odor. The Kufguards leg cuffs provide leakage/bowel containment. The XL + Bariatric Brief contains dual wetness indicators. The refastenable tape tabs allow for multiple openings of the brief. Latex-free.
Available size:
XL + Brief 64″ to 90″ waist, Item#P2190