Huggies Jeans Diapers | In Stock Now

Keep your child dry, comfortable and protected with HUGGIES® diapers, PULL-UPS® Training Pants, GoodNites® Underwear, and HUGGIES Natural Care® Baby Wipes.
Huggies Supreme Little Movers Jeans Diapers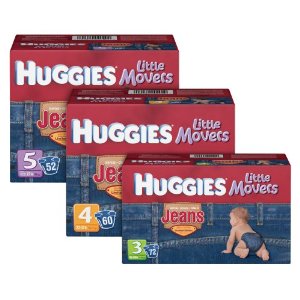 Is your child ready to "poo in blue"? Check out the official Huggies Jeans commercial. These adorable jeans diapers will ensure your child is the envy of the neighborhood or the catwalk. Buy yours today !
Available in store or online.
Unique and Trendy Jeans Design
Perfect for warm summer days!
Customized fit and comfort for your active baby
Contoured shape that stays in place
Less bulk in front and wider in back
Available in sizes:
Size 3 | Item# P11576 16-28 lbs 6/29's
Size 4 | Item# P11577 22-37 lbs 6/25's
Size 5 | Item# P11578 over 27 lbs 6/21's
Case Price: $83.94